Months in the Calendar - September
The piece below was designed by Princess Beatrice, daughter of Queen Victoria and is from an 1881 publication.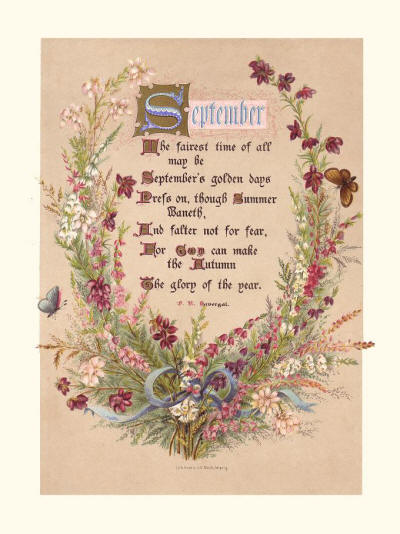 Click thumbnails
Today you can copy this idea using well crafted calligraphy skills or simply use a decorative font from the computer. Add your own border using wrapping paper, decoupage or other sketching skills.
»
September
September is from septem meaning seven, the 7th month in the old Roman calendar.
Astrological Signs
Virgo August 23 - Sept 22. Libra Sept 23–Oct 23
September Birthstone is Sapphire
The Sapphire is a form of mineral corundum and is related to the ruby.
Sapphires are usually blue and range from the prettiest cornflower blue through deep indigo to almost black. The difference is that red corundum specifically makes rubies and all other colours of corundum are called sapphires. The blue sapphire was once thought to protect the body from lust and snakes! It is said to help the confused think clearly and help soften thoughts of hate and anger making for a mellower peaceful person.
It really is one of the prettiest gemstones and looks wonderful when the jewellery item is enhanced with diamonds or other deep toned gems like emeralds or rubies.
Sapphire is derived from the Latin word sapphirus meaning blue.
This 14K decorative real sapphire and ruby gemstone hair barrette below is a unique handcrafted masterpiece from Charles Wilkins. You can see more gemstone pieces at his store here.
This barrette is offered in 14k gold with a ruby red rose, surrounded by four blue marquise sapphire leaves. The six beautiful blue marquise sapphire gems are the highest quality cutting and color. These VVS grade and higher marquise sapphires are perfectly matched in brilliance beauty and clarity. Charles tells me there are no 14k gold barrettes with such high quality gems available in our market place today. This item has been designed by 'Chas' with timeless beauty in mind. Now what a wonderful lifelong gift this sapphire and ruby hair barrette would make for a very special person for a Xmas box or birthday gift. With chignons set to be the fashion updo of 2006, this sapphire barrette would be the masterpiece touch for extra elegance.
Birthstones of the Calendar
The name of many calendar months have Latin derivations. Birthstones were initially linked to the Zodiac, but now are linked to calendar months. Birthstone jewellery has always been thought to have magical powers within them with such powers passed to the wearer of the gem. This idea has been revived by new age followers who extol the virtues of natural quartz crystals. They emphasise the importance of good harmony, energy, chi, balance, and healing. In addition the stones are often very pretty! Talismanic Jewellery has gained new importance since the millennium.
Individuals often feel special wearing jewellery corresponding to their own birthstones. Many people develop collections based around a fondness for their own particular birthstone. Some months of the year have two or three stones as birthstones. New gems and semi precious stones have become more popular. Cultures have merged and mixed so much in the past 100 years, that original lists of birthstones popular in any one country have tended to merge so that several stones are often featured in lists.
Page Added 26 November 2005
See Topics Below for More Ideas on Christmas Traditions, Customs, and Recipes
Calendar Months

Seasonal Calendar Extras

Seasonal Humour
Custom Search
About Fashion-Era.com
Fashion-Era.com looks at women's costume and fashion history and analyses the mood of an era. Changes in technology, leisure, work, cultural and moral values. Homelife and politics also contribute to lifestyle trends, which in turn influence the clothes we wear. These are the changes that make any era of society special in relation to the study of the costume of a period.

Fashion-Era.com can take no responsibility for any information on the site which may cause you error, loss or costs incurred from use of the information and links either directly or indirectly. This site is owned, designed, written and developed by author: Pauline Thomas and Guy Thomas. This site is designed to be viewed in 1024 X 768 or higher.
ALL RIGHTS RESERVED. Fashion-era.com reserves the right to add or delete information, graphics and links. Copyright © 2001-2013 on all content, text and images in Fashion-era.com. Images and text in this website may not be used on other websites.
Before you write to me for costume/fashion help or information please, please consult the extensive sitemap which lists all our pages. If you still cannot find the answer after searching the site, then before you email me, please consider if you are prepared to make a donation to the website.
Donations
Reader's donations help this site flourish, in particular donations encourage me to write more articles on fashion history as well as current trends. PayPal allows anyone with a credit card to donate easily and securely. You may donate any sum you feel appropriate.
If you have any comments, or if you see any broken links, then please email with details of the page url or problem.
˚
---
---
---
Antique Doll House of Patterns
Vogue patterns are a specialty, as well as antique dolls.
With over 100,000 patterns, if you are searching for a specific item, ask us! Antique Doll House of Patterns
---
---
---
---
---
---
‡